SOUTH AFRICA'S LARGEST SANDWICH FRANCHISE

Over 200 menu items made up of Sandwiches, French and Footlongs.
Also available are platters, salads and baked potatoes for breakfast and lunch. Our menu items also cover your corporate and party services.
We have also added a collection of Banting menus to our list which is available to order online.
Franchising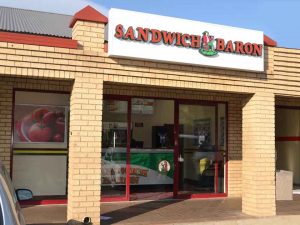 Sandwich Baron had small beginnings and was started in Alberton in 1996 by Sally J'Arlette-Joy. After selling her successful restaurant the intention was to have just a small sandwich shop. However, due to the demand of the product hope of a national franchise was realised. Sally's hands-on involvement from the beginning ensured that all the pitfalls normally associated with starting a new business were eliminated in this franchising development. We have grown to be the biggest player in the sandwich business. Our proven secret recipes result in undeniably delicious food that keeps our customers coming back for more (and tell their friends).