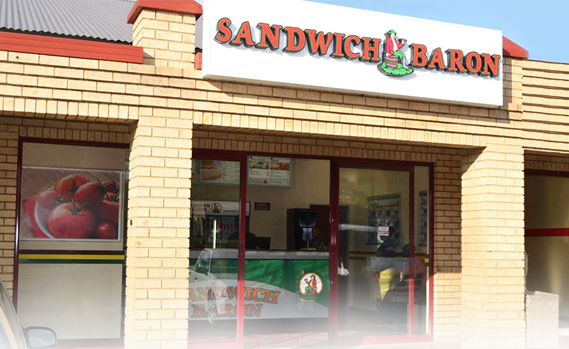 FOR OPPORTUNITIES AVAILABLE SEE BELOW
When considering a fast food franchise look no further….
Sandwich Baron had small beginnings and was started in Alberton in 1996 by Sally J'Arlette-Joy. After selling her successful restaurant the intention was to have just a small sandwich shop. However, due to the demand of the product hope of a national franchise was realised. Sally's hands-on involvement from the beginning ensured that all the pitfalls normally associated with starting a new business were eliminated in this franchising development. We have grown to be the biggest player in the sandwich business. Our proven secret recipes result in undeniably delicious food that keeps our customers coming back for more (and tell their friends).
Sandwich Baron presents a polished and professional retail identity. Added to our "good looks" we offer an extremely popular, free delivery service to our customers. Our first franchise opened in Germiston in 1997 and we have been full members of FASA since 2002. Currently there are 52 stores 4 being company owned.
New Franchise Opportunities for Sandwich Baron
Location
Region
Opening
date
Available
ASAP?
Estimated setup
cost excl VAT
Contact
person
Contact
number
 
Paarden Eiland
Cape Town
2016
Yes
R595,000
Sally
011 907 6237
 Strydom Park
Gauteng
Existing
Yes
R460,000
Sally
011 907 6237
Rustenburg
North West
Existing
Yes
R955,000
Sally
011 907 6237
 Hatfield
Gauteng
Existing
Yes
R500,000
Sally
011 907 6237
Get your finger in the fast food franchise pie with Sandwich Baron, South Africa's largest sandwich group nationwide!
If becoming a Sandwich Baron franchisee whet's your appetite then please contact us immediately, we'd love to meet you and cook up something together.
Why choose our franchise?
Join our royal family. Become a franchisee today. Sandwich Baron is literally the best thing since sliced bread and is a growing South African concern with fantastic wealth creation potential for you. With our well known brand, established operating procedures and full training and support a Sandwich Baron franchise offers you a secure investment in your own business. We maintain a friendly, fair, and creative work environment which respects diversity, new ideas and hard work. Sandwich Baron puts you in the driver's seat and offers potential franchisees a choice between the proven original concept and the popular Express outlet.
Consider the following advantages:
Market leader in the sandwich industry in South Africa
Created for the South African market
Proven concept
Local fresh produce used
Buying power
Menu chosen by South African customers
A national brand
Development daily in South Africa
On line ordering
National television advertising
Radio advertising
Internet advertising
Great hours for a food business
Have you got what it takes?
If becoming a Sandwich Baron franchise owner is definitely food for thought then you should be able to work under pressure and go that extra mile. We are looking for top class people with a passion for success and exceptional service. Previous food experience is not necessary. You are assured of quality and 100% commitment from the team at Sandwich Baron's Head Office. We want you to succeed and as such we offer the following:
FASA member. We are a registered FASA member since 2002. We offer full training and support to our individual franchise owners in order to develop and maintain an outstanding service ethic coupled with quality fare.
Full support Operations Managers. We employ full time Operations Managers to support our franchisees. We look after your investment by identifying problems within the Group and dealing with them immediately.
Opening Support. As well as providing you with a full time manager for your first month a complete care programme is implemented to support all new franchisees so you will never be alone.
Back Up Staff. We have invested in training and have a list of staff available to support you if you run into staff problems. We have a number of franchise support managers and trained staff to assist you.
Technical Staff. Your computerised stock control till is fully supported by Head Office where we do price updates and development.
On Line Ordering. We are the first food franchise in South Africa to have developed this. This results in speedy and accurate taking down of orders. Orders are increasing monthly and problems have been ironed out. Order on line at www.sandwichbaronstore.co.za
Newsletters and Franchise Meetings. These are provided on a regular basis where our franchisees' input is welcomed.
Training. To ensure the best start in your new business we provide specialised training for the owner, the counter and kitchen staff. Add to that an up-to-date Operations Manual to ensure smooth running. For our franchisees – 4 weeks at Head Office. Counter staff – 4 weeks at Head Office. Kitchen staff – four weeks at Head Office, one month on site. We offer ongoing training in the way of workshops.
On-going training:  Till system, customer service, new products and hygiene
Turnkey Operation. It's as simple as pie, our turnkey operation sees to the following:
All shop fitting included
All electrical and plumbing work
Assistance with lease
We choose your site
Staff sourced
Opening marketing assistance
Opening food stock
All equipment supplied
Price. Delivery store: R595,000 plus VAT. Potential franchise must have at least R 400,000 in their own money. Finance available depending on credit record of potential franchisee.
Email sally@sandwichbaron.com to get information and find out about opportunities in your area!
* Download Sandwich Baron application form in pdf format
* Download Sandwich Baron portfolio in PDF
FREQUENTLY ASKED QUESTIONS
1. How long have you been in business? 19 years.
2. How many stores do you have and how many are franchised? 52 stores – 48 franchisees and 4 company owned.
3. How long have you been franchising? 18 years.
4. Are you a member of FASA? Yes we have been a full member since 2002.
5. Is your trademark registered? Yes.
6. Where are your stores? Mainly in Gauteng but we also have in Durban Central, Klerksdorp, Pietermaritzburg, Witbank, Secunda, Rustenburg, Middelburg, Nelspruit and in the Western Cape.
7. Which areas do you have available? There are a few sites left in the Johannesburg area, parts of Pretoria are available and nationwide.
8. Who is your competition? We do not have any at the moment but this could change as the brand grows.
9. Do I have to run my own store? Yes, we do not accept manager run stores.
10. How much is a franchise? R595,000 plus VAT. Store includes joining fee of R75,000.
11. How much do I need before I can apply for finance? The banks required that you have your own 50% contribution.
12. When must I start applying for finance? You will need to meet with us first and obtain approval from the Franchisor.
13. How long does finance take? Around 3 months through all major banks and institutions.
14. Will I have to pay a deposit? No. However, you can pay a joining fee to put you on top of the list for a store. This is refundable if we cannot find a site within 40 days.
15. When will I sign the Franchise Agreement? When premises are found or upon payment of the joining fee of R75,000.
18. Do you assist with lease negotiations? Yes.
19. Do you assist with finding me a site? Yes. As a big Group we are being offered sites on a daily basis.
20. How many square metres do I require? 80m2 to 100m2.
21. What are the hours of operation? Most shops open from 8am to 4:30 pm but you can stay open longer if you wish. We are normally closed on Sundays and Bank Holidays. Your trading hours may be dictated by the shopping centre you are in.
22. What are your royalties? The royalty is 6% of turnover.
23. Is there an Advertising Fund? Yes, you will contribute 2% of your turnover to the Fund.
24. How long will it take me to break even? Normally 3 months.
25. What is your gross profit? 64% before tax.
26. How long will you take to open my shop? One month from receiving payment in full.
27. What is included? We offer a turnkey operation which means all your shop fitting, equipment, delivery vehicles and opening food stock is included.
28. How many staff will I need? Delivery store – we normally start with ten – four kitchen staff, one counter assistant and five drivers.
29. Will you assist me in choosing the right staff? Yes.
30. What kind of wages would I have to pay them? The wages are as required by the Bargaining Council.
31. What training do I receive? One month at Head Office. We have been very successful in training staff and duplicating the product.
32. What kind of support can I expect to receive? We have Operations Managers to look after our stores. We also have a team of managers and support staff. There are regular shop evaluations, newsletters and franchise meetings. The Franchisor is accessible to the Franchisees. We have an additional care programme for new franchisees.
33. What do I do about suppliers? Being a large group we have designated suppliers most of whom deliver the next day. Our suppliers number is less than ten. All prices for products are negotiated and set at Head Office. We use our buying power to get the best price of products for our franchisees. National distribution is in place.
34. What products does the Franchise Group supply? Very few items.  You will order through our distributors including your menus and clothing.  We do not have a distribution centre at present but suppliers are in place.
35. Can we serve coffee? Yes.
36. Can we offer specials? Yes but these are developed by Head Office.
37. What do I do about stock control? We have a complete computerised stock control till system?
38. How long is the franchise term and is this renewable? Five years and it is renewable provided there have not been any breaches of the Franchise Agreement.
39. Can I sell my shop? Yes with approval of the new person by the Franchisor.